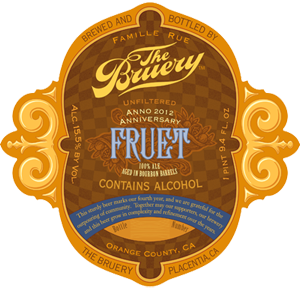 Taken from http://thefullpint.com/beer-reviews/the-bruery-fruet/
Since when did beer become unaffordably ugly? This question popped into my head a few days ago as I was gallivanting around Jacksonville in search of a few worthy bottles with which I could ring in the New Year. After my first stop, it became quite clear that either I no longer make enough money to support my hobby, or something has gone terribly wrong with the retail/consumer approach to craft beer.
At this particular location in a trendy Jacksonville neighborhood, I came across several bottles that I had been wanting to try. Among them being a bottle of
Fruet
, brewed by The Bruery. It's a bourbon barrel aged anniversary ale that comes in at a whopping 15.5%! The bottle and label exudes prestige. There is a golden wax seal that tops the champagne-looking bottle. Knowing that I had just found the PERFECT beer for the occasion, I reached up to pull my prize off the top shelf and--Gasp--$35.99? I literally gasped at the price and, remembering what my mother told me: "If you break it you buy it," I carefully eased the bottle back in it's place. Sure, did I have at least $36 in my bank account? Of course. But there is just no reason a beer should ever cost that much. Period. I don't care what it is, where it's from, or who made it.
Craft beer has somehow forgot the very thing that makes it great--it's not only good, but it's affordable You see, craft beer isn't pretentious or intimidating like wine and fine liquors can be. With craft beer, the average Joe can take his ten bucks and buy something better than
piss in a can
.
Let me be clear in saying I don't fault the store for setting the price of Fruet so high. They know they'll sell it because people are suckers for "rarities." We're idiots for feeding into whatever it is that makes us believe a bottle of beer is worth that much. Heck, it was just a few weeks ago that a six pack of Westvleteren XII sold for $300 on Ebay. Come on, man. That's just insane. Have we forgotten that no matter how rare a beer is, regardless of how sought-after a particular brew may be, here's what happens when you consume it: you take a giant piss and walk away (hopefully after you've washed your hands).
Now listen, I know I am generalizing a bit and playing to an extreme. I do not mean to say there are not distinguishable differences in "good" beer and "bad" beer. Yes, even in the craft market there are crappy beers. My argument is simple: craft beer isn't wine. It's not whiskey, scotch, or cognac. It's beer--good beer. Great beer. It might even be aged in fine barrels from one of the aforementioned liquors. But, in the end, it's still beer. And I just don't believe beer is meant to be unaffordable.
Am I crazy? Maybe. But I'll keep buying beers like
Stone Imperial Russian Stout
and
He'Brew Jewbelation Sweet 16
, both of which are superb and under $10.